Maryinsky School № 1566 named after the Heroes of the Battle of Stalingrad
---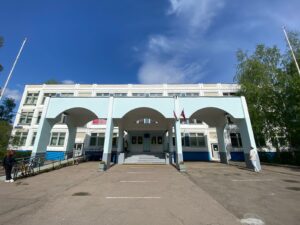 The Battle of Stalingrad became one of the decisive battles of the Great Patriotic War. The Nazi invaders suffered heavy losses and were forced to retreat from the North Caucasus and abandon Stavropol, Kuban, Rostov‑on‑Don. This was achieved at the cost of life and blood of our defenders, heroes of the Battle of Stalingrad, whose memory is immortalized in the names of streets, schools, cadet corps and colleges.
Building 6 (Cadet) of "the Maryinsky School № 1566 named after the Heroes of the Battle of Stalingrad" is located at 18, building 3, Myachkovsky Boulevard. There is a museum complex on its territory, which consists of:
The Museum of Military Glory of the 3rd Guards Stalingrad Mechanized Corps (the museum of School № 1917, which veterans called "revolutionary", was created by the Veterans Council of the 3rd Guards Stalingrad Mechanized Corps on the initiative of the participants of the Battle of Stalingrad), opened on February 20, 2004. The museum contains unique artifacts and exhibits from the Great Patriotic War. The Days of Military Glory of Russia are reflected in military-historical miniatures created by the hands of the guys from the "Weapons of Victory" circle and materials about 53 Heroes of the Soviet Union and Full Knights of the Orders of Glory – soldiers of the 3rd GSMK are collected there.);
The Stele "Eternal memory of the Soldier of the Great Patriotic War 1941-1945", around which birch trees were planted and a capsule with the earth of Mamayev Kurgan was laid (according to the project of Officer-Educator V.V. Voronkov and with his direct supervision of construction, it was opened on April 28, 2010 in the presence of the Governor of the Volgograd region, the Prefect of the South-Eastern Administrative District of Moscow, veterans of the Great Patriotic War and military service, cadets and their parents, residents of the Marino district);
Commemorative Bust of Nikolai Grigoryevich Orlov, Lieutenant General of the Tank Forces, Doctor of Military Sciences, Honorary Chairman of the Council of Veterans of the 3rd Guards Stalingrad Mechanized Corps (opened on November 16, 2018.) He devoted his life to the fight against falsifiers of our history (his books "Stalin's Armored" and "On the Way to Victory") and the main task – military-patriotic education of schoolchildren and youth.
Address: Moscow, Myachkovsky blvd., 18, bldg. 3