Nikolai Frantsevich
Gastello
1907-1941
---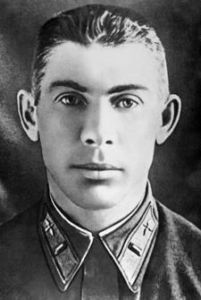 Nikolai Frantsevich Gastello was a Soviet military pilot, participant in three wars, captain, the Hero of the Soviet Union. Since May 1932 he was in the Red Army, he was drafted into the Air Force by special recruitment. In 1933 he was educated at the 11th Lugansk Military Aviation School of pilots named after the Proletariat of Donbass. Started flying as a co-pilot on a TB-3 heavy bomber, N. F. Gastello piloted the aircraft independently since November 1934, becoming the commander of the ship.
In 1938, as a result of the reorganization of the compound, Nikolai Frantsevich Gastello found himself in the 1st heavy bombardment aviation regiment. In May 1939 he became a flight commander, and just over a year — deputy squadron commander. In 1939 he participated in the battles on Khalkhin-Gol as a part of the 150th high-speed bomber Aviation Regiment, to which the squadron of the 1st Heavy bomber Aviation regiment was attached. He participated in the Soviet-Finnish War of 1939-1940 and the operation to annex Bessarabia and Northern Bukovina to the USSR (June-July 1940). In the autumn of 1940, the aviation unit in which N. F. Gastello served was relocated to the western borders of the USSR, to the city of Velikiye Luki, and then to the Borovskoye aviation town near Smolensk. In 1940 N. F. Gastello was awarded the rank of captain.
He fought on the Khalkhin-Gol River as a part of the 150th high-speed bomber Aviation Regiment. He was a participant of the Soviet-Finnish War of 1939-1940 and the Great Patriotic War from the first day. He made his first combat flight on June 22, 1941 at 5.00 o'clock. On June 26, 1941 while performing another flight on a combat mission, a DB-3F bomber, on which Nikolai Gastello and his crew were flying, flew out to strike a German mechanized column, but was attacked by the enemy. Gastello's plane was hit by anti-aircraft guns. The shell damaged the fuel tank, the plane caught fire. The pilot could eject, but he decided to fulfill his military duty to the end. Captain Gastello sent a burning plane to a cluster of enemy troops near the village of Radoshkovichi on the Molodechno-Radoshkovichi highway and died. A month after the feat, Captain Nikolai Frantsevich Gastello was posthumously awarded the title Hero of the Soviet Union.
Address: Moscow, 2nd Sokolnicheskaya str., 3