Evgeniya Maksimovna
Rudneva
1920-1944
---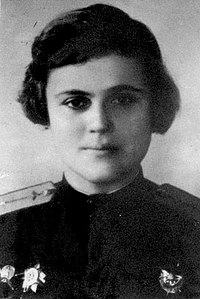 Evgeniya Maksimovna Rudneva was a navigator of the 46th Guards Taman Night Bomber Aviation Regiment of the 325th Night Bomber Aviation Division, Guard senior Lieutenant, the Hero of the Soviet Union (posthumously). She made 645 combat night sorties to destroy crossings, railway echelons, enemy manpower and equipment during the Great Patriotic War. She was appointed navigator of the aircraft, then of the squadron, and then of the regiment, where 22 navigators were trained under her leadership. She died on April 9, 1944 during a combat mission north of the city of Kerch in the Crimean ASSR. The monument is a concrete chest bust. There is a dedicatory inscription on the pedestal made in slotted letters on a rectangular recessed surface with a polished background: «Hero of the Soviet Union Rudneva Evgeniya Maksimovna. 19 24/XII 20-19 9/IV 44».
Sculptor: A. Kuznetsov
Materials: bronze, concrete
Year of installation: 1988
Address: Moscow, Pilot Babushkina str.