Monument to the soldier-militia of the Frunze division
---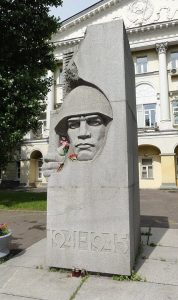 At this place, in July 1941, the 5th division of the People's Militia of the Frunzensky district of the capital was formed. Volunteers went to the battlefields — workers of the factories "Rubber" and "Electrosvet", the factory named after Y.M. Sverdlov and the combine "Red Rose", as well as other organizations and enterprises of the district. A bas—relief is carved on the front face of the block – the stern face of a soldier in a helmet, knitted eyebrows, a hand clutching a machine gun. At the bottom of the block there are the numbers — 1941-1945. Nearby there is another smaller slab, on which the text of a poem by the poet M. Maksimov, a participant in the war as a part of the People's Militia of the Frunzensky district, is cut down:

"I am an equal among equals with you.
I have become a stone, but I live.
And you – who have accepted Moscow,
You are the legacy of fellow soldiers,
You are the givers of centuries to me,
All of you – who will be after us –
Do not forget for an hour,
That I'm looking at you from a stone."

The most severe consequences of the Great Patriotic War for the Soviet Union are its human losses – military personnel and civilians, amounting to 26.6 million people. This figure was obtained as a result of extensive statistical research by demographers and the subsequent work (in the late 80s of the XX century) of the state commission for the clarification of human losses. It was published in a rounded form ("almost 27 million people") at a solemn meeting of the Supreme Soviet of the USSR on May 8, 1990, dedicated to the 45th anniversary of the Victory of the Soviet Union in the Great Patriotic War. The specified number of total human losses list (26.6 million people) includes soldiers and partisans killed in battle and died of wounds and diseases, starved to death, civilians killed during bombing, artillery shelling and punitive actions, prisoners of war shot and tortured in concentration camps, underground workers, as well as workers, peasants and employees who were abducted for hard labor in concentration camps.

On October 11, Moscow and the whole our country celebrates the Day of the Moscow People's Militia. This memorable date was set in 2021 in honor of the 80th anniversary of the formation of militia divisions. The People's Militia of Moscow was created at the very beginning of the Great Patriotic War. On July 2, 1941, the Military Council of the Moscow Military District adopted a "Resolution on the voluntary mobilization of residents of Moscow and the region of Moscow into the People's militia".
Address: Moscow, Ostozhenka str., 38, p. 1